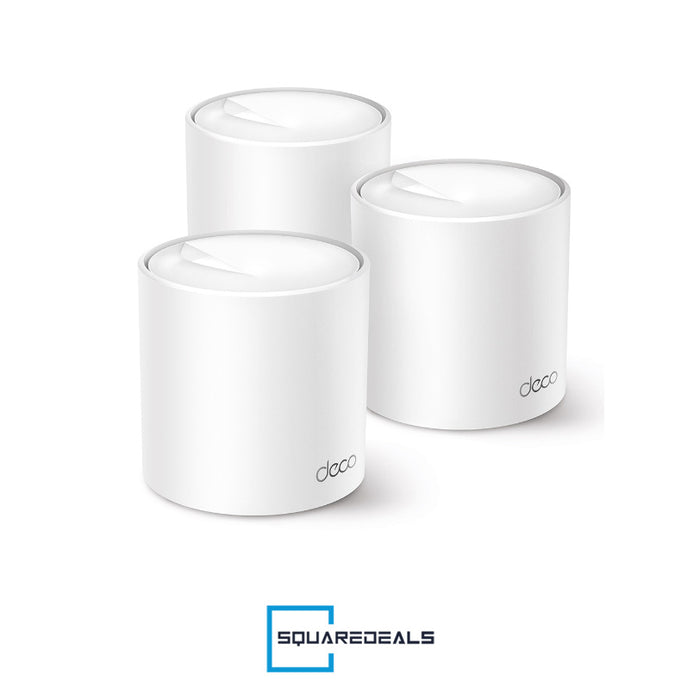 Tp Link Deco X50 AX3000 Dual Band Whole Home Mesh WiFi 6 Unit 3 Pack TpLink
by TP-Link
Whole-Home Coverage: WiFi Dead Zone Killer
With clearer and stronger signals enhanced by BSS Color and Beamforming, Deco X50 boosts broader whole home WiFi coverage with great performance. Wireless connections and optional Ethernet backhaul work together to link Deco units, providing even faster network speeds and truly seamless coverage. Want more coverage? Simply add another Deco.

AI-Driven Mesh: Always Learning, Constantly Optimizing
Armed with AI-Driven Mesh, Deco X50 delivers smart WiFi that follows you wherever you are, without interruption. It automatically learns your network environment, client quality, and user behaviors. Sophisticated algorithms account for various factors so that Deco X50 provides ideal mesh WiFi, unique to your home. Walk through your home and enjoy seamless streaming at the fastest possible speeds.*

Seamless Roaming with One WiFi Name
TP-Link Mesh means Deco units work together to form one unified network. Your phone or tablet automatically connects to the fastest Deco as you move through your home, creating a truly seamless WiFi experience.

Easy Management
Manage your WiFi at home or away on the Deco app, including seeing all connected devices, prioritizing your own, setting up a guest network, and more.

Voice Control
Pair with Alexa to control Deco X50 with simple voice commands. Enjoy the convenient life.

All Decos Work Together
Deco X50 is compatible with every other Deco model to form a mesh network. Expand mesh WiFi coverage anytime by simply adding more Decos.

More than a Router, Functional and Beautiful
The pure white design, simple but all-embracing, evokes a wintery mood or a bright summer day. Deco X50 with a delicate body case makes it perfect to blend into various home decorations.