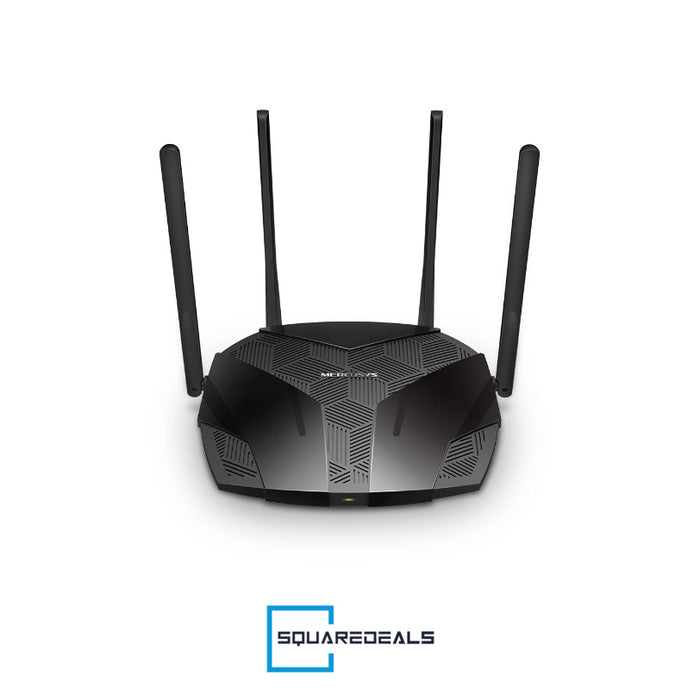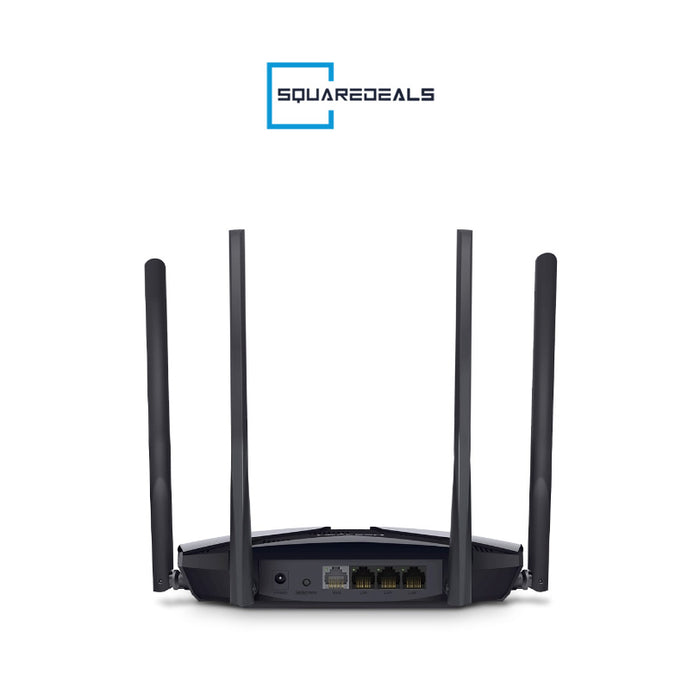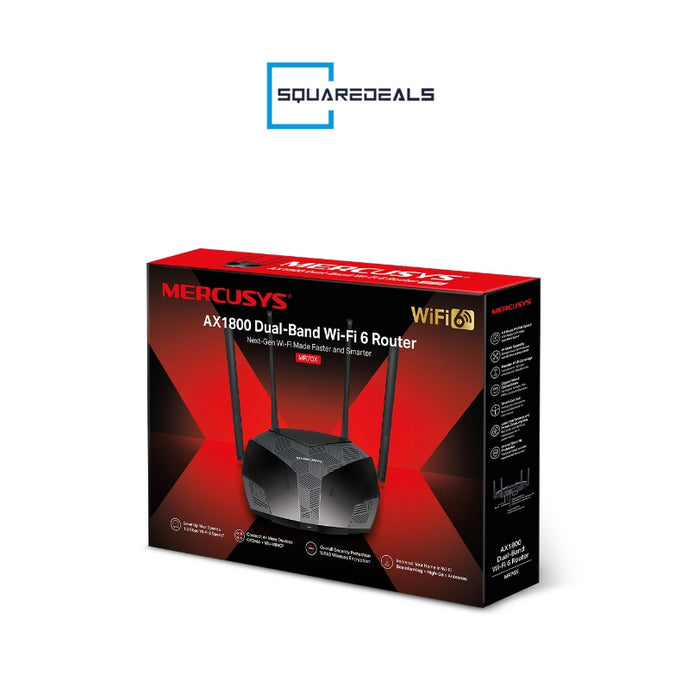 Mercusys MR70X AX1800 Dual Band WiFi Optimal 6 Router IPv6 VPN Support
by Mercusys

Next-Gen WiFi 6 Speeds – Optimal WiFi 6 speeds reaching up to 1.8 Gbps (1201 Mbps on the 5 GHz band and 574 Mbps on the 2.4 GHz band)
4× More Capacity – OFDMA and MU-MIMO allow simultaneous data transmission to and from several devices, improving overall network efficiency
Broader, Stronger Coverage – 4× multi-directional high-gain antennas with Beamforming boost stable connections throughout your home for strong WiFi signals in every corner
Overall Security Protection – The latest WPA3 provides improved WiFi security
Gigabit Wired Connections – Make full use of your internet access and transfer data at dizzying speeds for peak performance
Eco-Friendly Power Saving – Target Wake Time (TWT) reduces power consumption for your mobile and IoT devices during data transmissions
Less WiFi Interference – Minimizes the interference from neighboring signals to improve transmission efficiency with BSS color
Smart Connect – Intelligently chooses the best available band for each device
Access Point Mode – Extends a wired network and makes it wireless


Level Up Your Speeds with WiFi 6
Enjoy unrivaled levels of speed with next-gen WiFi 6. By combining 1024-QAM and a long OFDM symbol, MR70X delivers total speeds of up to 1800 Mbps – 1201 Mbps on 5 GHz and 574 Mbps on 2.4 GHz. Game online, watch 4K videos, and crank up everything to the highest settings without lag.†

4× More Capacity More Streams, More Devices, More Fun
WiFi 6 also improves network capacity to better address the increased demand on home networks. With MU-MIMO and OFDMA, MR70X transmits data to and from multiple devices at the same time, reaching up to 4× more capacity, greatly increasing your devices' transmission efficiency and the throughput of your whole network under the same conditions.

Immerse Your Home in WiFi
Four powerful high-gain antennas armed with advanced wireless technology provide strong signals throughout your home. Beamforming detects your connected devices and concentrates wireless signal strength towards them, making your connections more stable.

Less WiFi Interference
BSS Color marks the data frames from different APs which helps minimize the signal interference from your neighbors to improve transmission efficiency.‡

Eco-Friendly Power Saving
Target Wake Time reduces power consumption for your mobile and IoT devices during data transmissions to extend battery life.‡

Smart Connect Combines Two Bands in One
Equipped with next-gen WiFi 6, both 5 GHz and 2.4 GHz are upgraded to the latest generation. Smart Connect combines the 2.4 GHz and 5 GHz bands into a single WiFi SSID and helps your devices intelligently choose the best available band that has a stronger signal and faster speed. This keeps your devices always running optimally when you walk around your home.