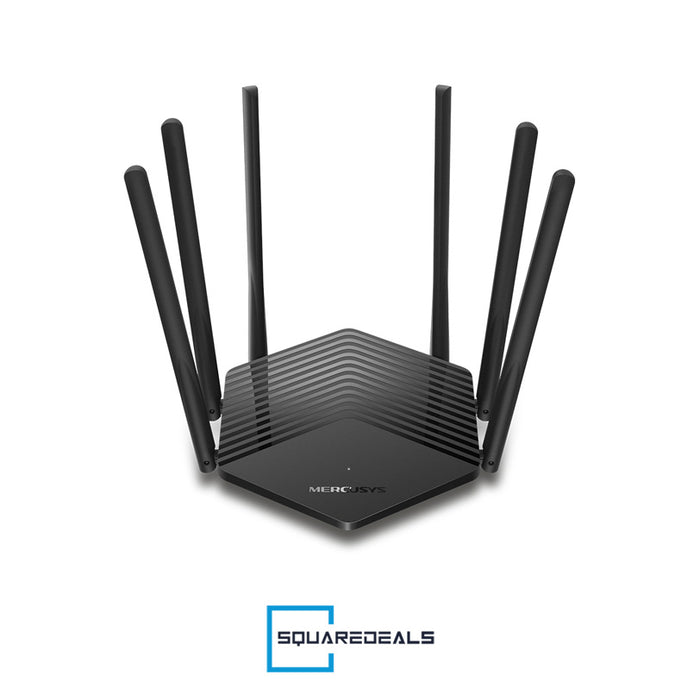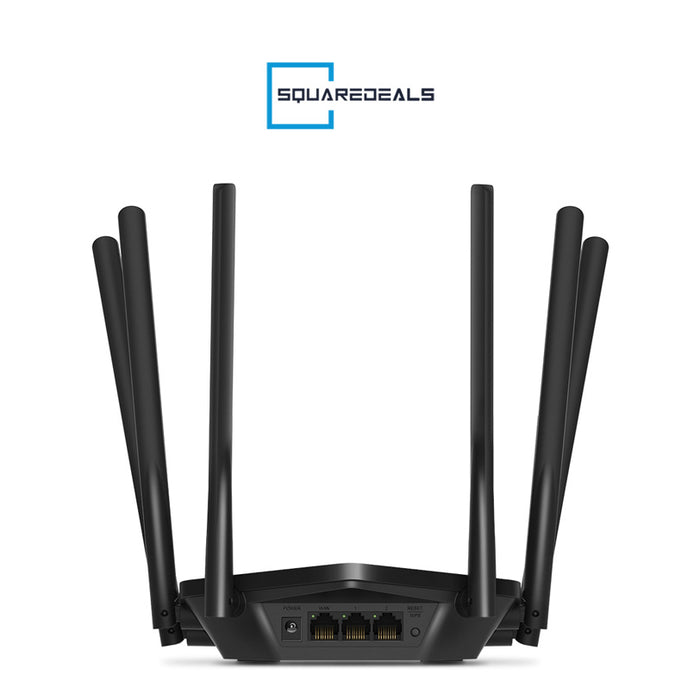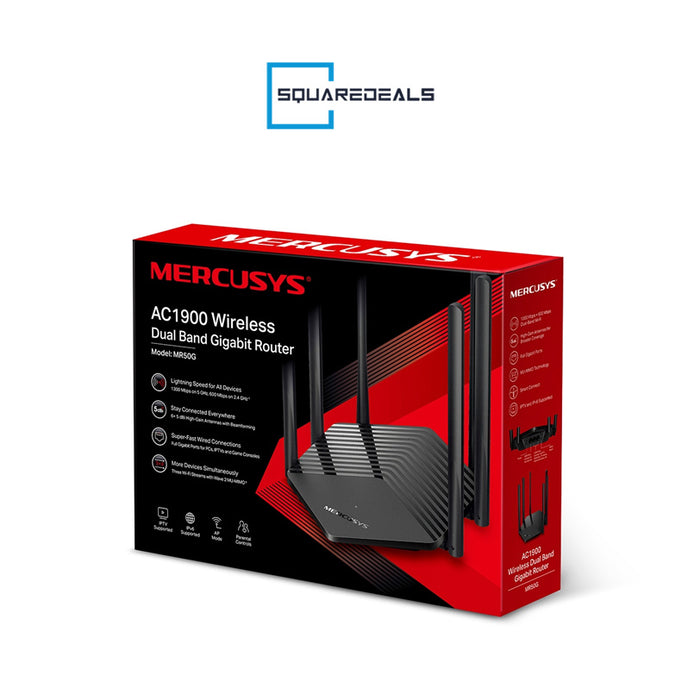 Mercusys MR50G AC1900 Wireless Dual Band WiFi Gigabit Router 6 Antennas
by Mercusys
Lightning Fast Speeds for All Devices Concurrent WiFi Speeds Up to 1900 Mbps
As broadband services continue developing, your WiFi router also needs upgrading. The newest mainstream router is ready for you. Complying with the powerful 802.11ac standard, MR50G delivers speeds of up to 1900 Mbps (600 Mbps on 2.4 GHz, 1300 Mbps on 5 GHz) to make all your PCs, smartphones, and TV boxes run as fast as possible. Enjoy non-stop entertainment and smooth 4K streaming without any lag.

Stay Connected Everywhere Powerful High-Gain Antennas with Beamforming
6× powerful high-gain external antennas armed with state-of-the-art technology provide powerful signals throughout your home. Beamforming detects your connected devices and concentrates wireless signal strength towards them, making your connections more stable. Enjoy fast and stable WiFi wherever you want it.

More Devices Connected Simultaneously Increases Network Performance without Replacing Your PCs, Smartphones
A traditional router has to queue up your devices when there are multiple connections on a network at the same time, causing all-around network congestion. However, with MU-MIMO technology, MR50G communicates with multiple devices at the same time to reduce wait time and make your network more efficient.

Smart Connect Combines Two Bands in One
Smart Connect combines the 2.4 GHz and 5 GHz bands into a single WiFi SSID and helps your devices intelligently choose the best available band that has the stronger signal and faster speed. This keeps your devices always running optimally when you walk around your home.

Super-Fast Wired Connections Makes Full Use of Your Internet Access
Equipped with full gigabit ports which are 10× faster than Ethernet ports, MR50G transfers data at dizzying speeds for peak performance. Connect your PCs, IPTVs and game consoles to MR50G for robust stability.