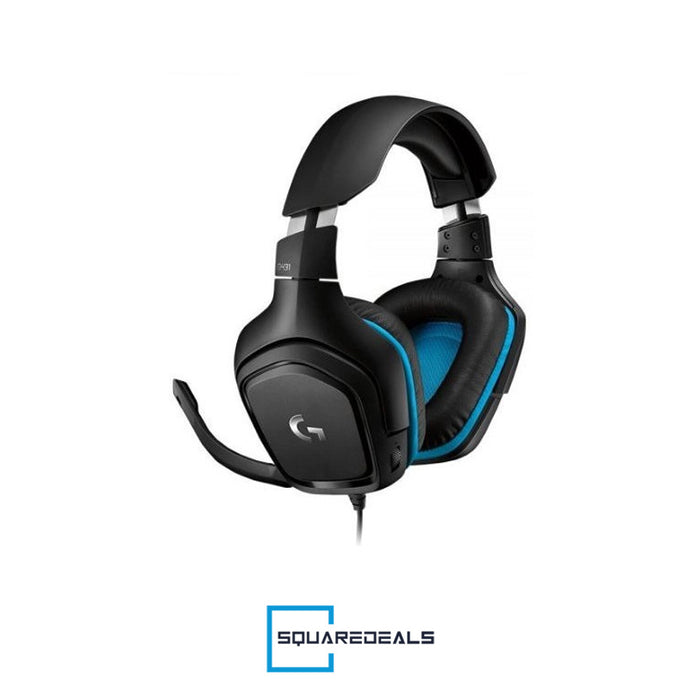 Logitech G431 7.1 Wired Surround sound Gaming Headset 50 mm Mic 6 mm black
by Logitech
DRIVER 50 MM
The large 50 mm audio driver provides complete, expansive overall sound for a more cradling gaming experience. Your favorite game will now sound like it should: Amazing.

CLEAR AND CLEAR
A larger 6 mm microphone size ensures that your teammates can hear you clearly. Flip-to-mute boom turns off all sounds when you don't want to be heard and can be folded when you don't need it.

DTS HEADPHONE:X 2.0
DTS Generation Headphones: the latest X 2.0 surround sound, powered by the Logitech G HUB software, it allows you to hear enemies sneaking behind you, hinting at special abilities, and the atmosphere of a deep gaming environment, all around you. Enjoy 3D audio that goes beyond 7.1 channels so you feel like you are in the middle of real action.

ONE HEADSET FOR ALL PLATFORMS
G431 is compatible with a PC or Mac via a USB DAC or a 3.5 mm cable included, or with a gaming console that includes PlayStation 4 ™, Xbox One ™, Nintendo Switch ™, and mobile devices via a 3.5 mm cable.

DESIGNED FOR COMFORT AND DURABILITY
These headphones are designed with a comfort aspect in mind: Luxurious and lightweight ear cup leather and headband are specially designed to release pressure from your ears. Ear cups can be rotated to a maximum of 90 degrees. Make volume adjustments comfortably and quickly for each platform with the available ear-cup volume wheel.